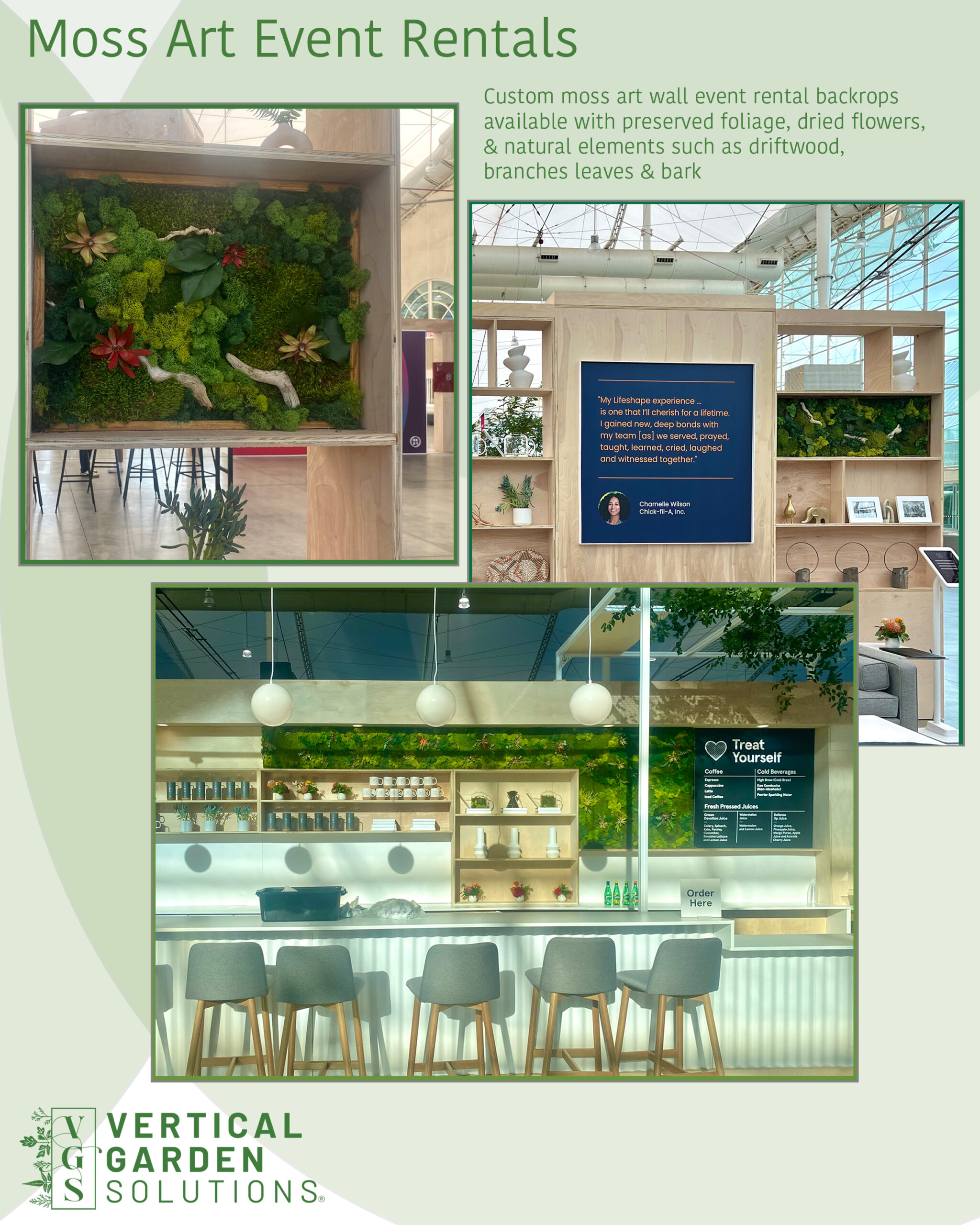 Moss Art Event Rentals
Thinking of ways to liven up your next event? Bring some greenery to your scenery with moss art walls! Whether you're looking for a lush floral photo booth for a corporate work party, or a tropical plant backdrop for a wedding, baby shower, or festive gathering, our moss art event rental walls are the perfect vertical garden solution for any occasion.
Our preserved moss art event rentals can be modified to fit both indoor and outdoor settings, fancy or casual, and is a great way to bring some nature and greenery into any environment.
We can create a wide variety of styles and executions of our moss wall plant backdrops with company logos, preserved foliage, different colors of preserved moss, and live plants. Moss art and living walls are becoming much more popular for enhancing work environments because of their ability to create healthier living atmospheres. Having a sense of nature or even items that resemble nature can also help with our stress response so we can function better in our daily lives.
Our Latest Project
Our latest moss art project was a collaboration with Brand Apart marketing company and Syzygy who designs luxury event spaces utilizing moss art pieces staged in different settings for various work office atmosphere settings for Chick-fil-A corporate offices held at the San Diego Convention Center. Combining various elements from nature such as driftwood, real proteas and eucalyptus, and different textures and tones of moss, we have created lush floral garden moss wall backdrops for the coffee and espresso bar decor providing a welcoming feeling throughout the architecture as nature itself is inviting.
Connecting with nature is a way we can feel more connected to ourselves and others. Creating atmospheres that bring nature into our lives is not only grounding but can help us feel centered and a sense of serenity from within.