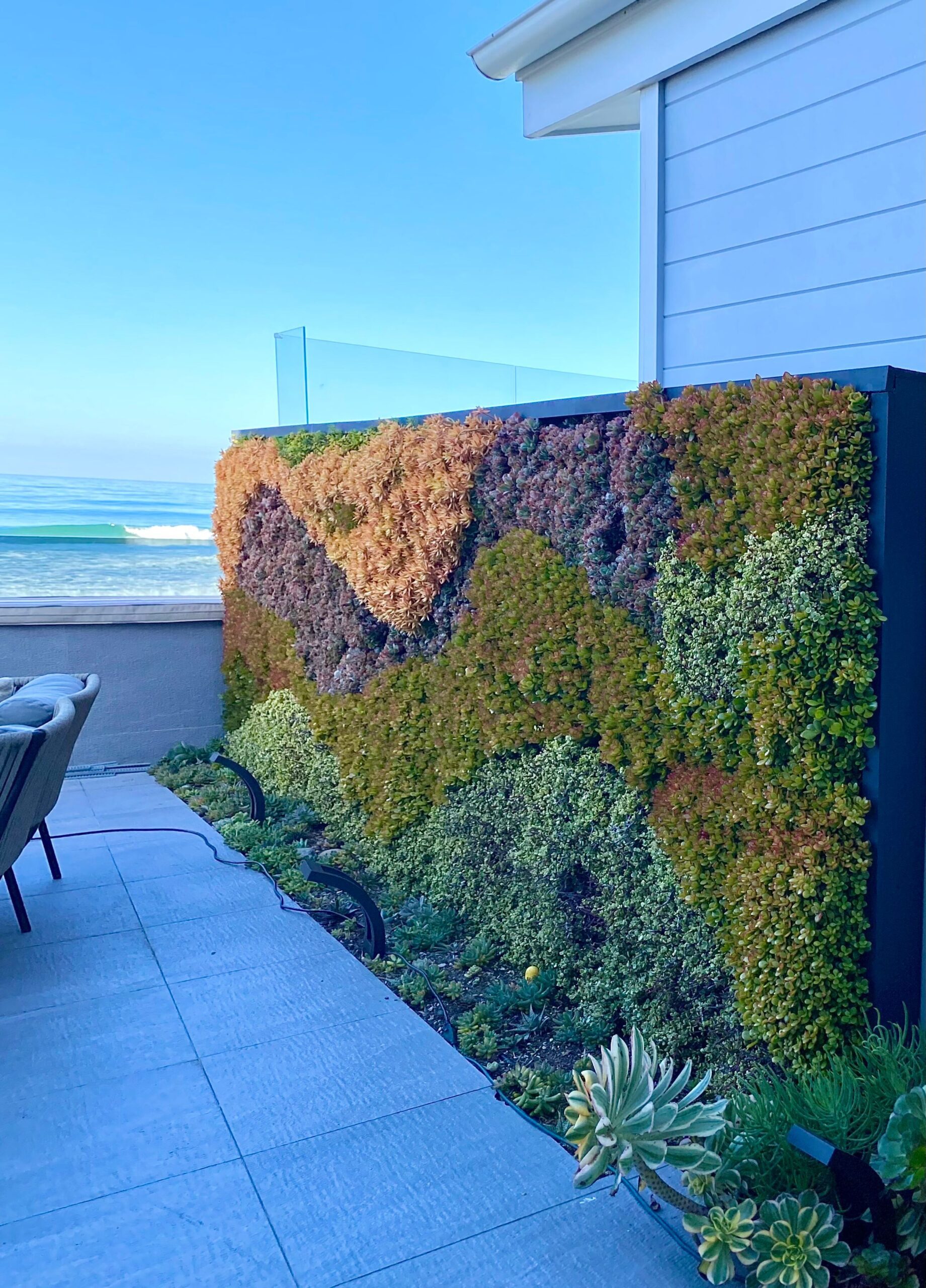 Why Getting the Right Living Wall Is Important
Are you wondering what the best types of living walls for your space are but aren't sure the type of plants or style to choose? There are many different types of plants that thrive in different environments and it's important to know what types of plants will function best in the area you choose, while also providing the look you are wanting to achieve. Whether it's a leisurely living space or a commercial business place, getting the right living wall can enhance any space while also functioning to create a healthier atmosphere.
Exterior Succulent Walls
Do you have an outdoor space that gets plenty of sunshine? Succulent walls thrive where there is plenty of exposure to direct sunlight. Succulents are adapted to harsher climates so they don't require much water, and they are very hearty and resilient to the elements as well. Succulent living walls can provide many bright colors that will greatly enhance any outdoor space. Most succulent plants can still survive and grow indoors or in places without much light but keep in mind that they won't be as brightly colored and will tend to take on more green tones and be a bit more delicate. Succulents in the shade or indoors can also grow longer 'leggy' stems as they are striving to reach toward the sunlight. Our most brightly colored succulents are planted in sunny outdoor areas, so if you're looking to brighten up a sunny outdoor environment, a succulent vertical garden is a great option that adds some lively beauty to your space.
Tropical Living Walls
For interior or shaded exterior environments, our tropical living walls thrive best. If you are looking for a vertical garden to add plants to your interior space or shaded outdoor area, tropical living walls are the perfect choice for you! Tropical living walls are low maintenance and require very little sunlight. They not only provide beauty but purify the air in your home or workspace.
We use Cortica Garden cork panels for our indoor and shaded outdoor living walls as they create the perfect environment for the plants and also provide additional benefits. The natural cork panels provide temperature and sound insulation and are comprised entirely of natural, environmentally friendly plant-based materials. One of the biggest reasons, of the many, to add live plants to your space is that they purify the air by fighting free radicals and pollutants. This can also help the brain and body function better, resulting in less anxiety or stress and improving overall well-being.
Preserved Moss Walls for Interior Spaces & Event Rental Backdrops
If you are looking to bring a lush green vertical garden into your indoor space but don't want to deal with having to take care of plants or having to maintain a growing garden, preserved moss art walls are a great option. Our moss art walls are made of real moss that has been preserved via glycerin exposure and comes in a variety of textures and shades of green (along with additional dyed moss-colored options.)
There are many foliage options that can be used to embellish the moss art walls as well as elements from nature such as driftwood, bark, branches, metals, or lighting options. Studies have shown that having things that resemble nature can calm the nervous system, which lends itself to more productivity and decreased stress levels.
Moss art event rental walls are also a great addition to have at an event or party. Whether it be for a photoshoot backdrop, DJ booth, bar backdrop, or just for extra lush decor, moss art walls can be customized with various plants, patterns, and signage and are fun and functional art for any event.