$350.00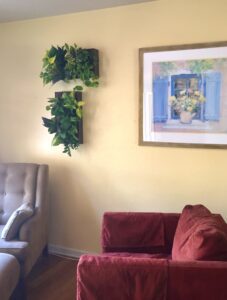 Pre Planted Living Wall Planters Double Set
Cortica 8 Portrait & Tabletop Mini Living Wall Panel 
Planted with plants for indoor/indirect sun/shaded environments. Can be hung on wall, or set flat on table top, shelf, counter. Manual watering system.
Our eco friendly vertical garden option using Cortica Garden's sustainable living wall system made from natural cork & recycled plastic. Perfect for all sorts of environments, lightweight yet durable, Cortica's C8 living wall panels are customizable to all vertical garden shapes & sizes. Along with having plants that purify the air, natural cork provides many benefits such as absorbing harmful CO2's while also providing sound & temperature insulation.
Cork is an all natural material that comes from the bark of the Cork Oak Tree that makes for an ideal living wall structure material for many reasons. Cork is naturally water and gas resistant, which makes it super lightweight, repelling any moisture or water from plants but able to be durable enough to hold the plants in place. It not only contains the roots and water but keeps it from getting contaminated from any molds or fungus. Cork is also temperature resistant making it ideal for temperature control as well as providing sound insulation.