It can be difficult to visualize how your garden could look and to work out where to put features and plants for the best effect. Our role is to help you do just that.
At Vertical Garden Solutions, we take a cooperative approach, developing the design concept together with our clients, and tailoring the service according to their tastes, needs, and budget.
Even the most contemporary gardens with clean architectural lines and strong bone structures need to be softened with beautiful planting. We prepare planting plans, numbers, spacing, and plant care.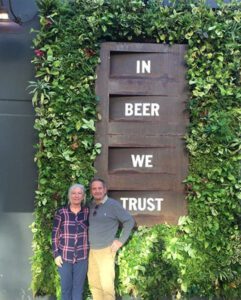 Georges began working with living walls in 2009 by starting one of the first living wall companies in the industry, Vertical Garden Solutions. Since then, Georges has designed and built a vast array of creative living wall and moss wall applications for residential and commercial spaces throughout California. With well over a decade of industry experience and knowledge of the science and technologies behind living wall applications, Georges ensures each project exceeds the client's expectations and thrives for many years to come.
Prior to pioneering in the living wall industry, Georges made his career in the restaurant and hospitality industry where he developed a strong sense of what makes an appealing and desirable atmosphere. With decades of experience in this field and having obtained a degree from Cornell's School of Hospitality, Georges understands how to provide the highest quality product while maintaining strong customer relationships and satisfaction.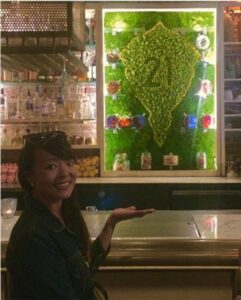 With a background in fine art & experience in various forms of gardening and designing living walls, Jana Kang has developed a passion for biophilic design & sustainability through living plant walls and moss art at Vertical Garden Solutions. Jana has worked extensively with a wide variety of mediums & materials within the art world and graduated from the School of Visual Art in NYC with a degree in Fine Arts while also developing experience in gardening after art school.
Working directly with clients to create their vision Jana has been able to offer a wide range of vertical garden design styles. Having much experience working with a variety of botanical materials she designs living walls keeping functionality in mind with the intention of bringing natural beauty & healing to all sorts of environments. Utilizing natural materials like preserved moss, foliage, various living wall systems and plants to create each client's vision and best develop concepts to create the perfect living wall piece for any type of lush atmosphere that is desired.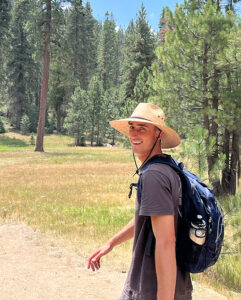 Kamron joined the team at the start of 2023. His previous roles include assistant project manager at an environmental consulting company where he assisted project managers and led restoration teams on a variety of habitat enhancement and restoration projects throughout Southern California. This experience and his other previous role as a sales coordinator in the living wall industry have equipped him with attention to detail, time and budget management, and customer service capacities to effectively manage living wall projects successfully from start to finish while ensuring full customer satisfaction.
He got his bachelor's degree in Environmental Studies and Technology Management Program Certification from UC Santa Barbara where he sharpened his knowledge of ecology, botany, and ecosystem sciences, as well as sales, marketing, entrepreneurship, and business development. In his spare time, Kamron enjoys growing California native plants for landscape applications.
Our vertical garden plant consultant and living wall designer will show you different options that best apply to your idea. We can develop digital renderings, mock ups and plant selection schematics to turn your idea into reality.
Our vertical garden team will install a sturdy support structure for your wall then add a suitable growing medium for planting the selected vegetation. The result? A thriving vertical garden!
Depending on the type of wall, the maintenance phase can involve little to no maintence or regular watering, pruning, and fertilization to support plant health and growth, while also monitoring the plants' well-being for optimal performance.
At Vertical Garden Solutions, we create custom living walls with the highest level of craftsmanship and customer service. We specialize in designing and installing stunning vertical gardens, tropical plant walls, succulent walls and arrangements, and moss art with optional logos. We can also provide living wall rentals for your next event or gathering. We take pride in our attention to detail and personalized approach to every project, ensuring that each living wall complements your space and enhances your decor. If you're looking to bring nature's beauty to your home, contact us today to learn more about our living wall services and how we can help you transform your space with the perfect custom design.
Our mission is to revolutionize the built environment by championing the integration of plants into every aspect of human development. We aim to redefine current developmental paradigms by promoting living walls as an essential element in architectural design, interior spaces, and urban landscapes. Through our innovative solutions, we strive to create healthier, more sustainable, and aesthetically inspiring environments that harmoniously blend nature with human habitation. By fostering a deep connection between people and plants, we envision a future where the built environment not only sustains life but also celebrates the beauty and benefits of nature in all its forms. Together, let's transform our world into a greener, more vibrant, and thriving place for generations to come.
Design a Custom Living Vertical Garden
Transform your space with a breathtaking living wall garden today!