Vertical Garden Solutions has built a reputation for designing green living walls in San Diego and Southern California for over 10 years. Having the industry-best technical expertise is most important when it comes to choosing the right company to design, build, and maintain your one-of-a-kind living wall.
Our Project Process
We implement 3 phases through the course of a project from concept to completion:
Careful thought and attention are given during each step to ensure you receive a solution tailored to your needs. We are committed to making the entire experience from start to finish as effective and efficient as possible.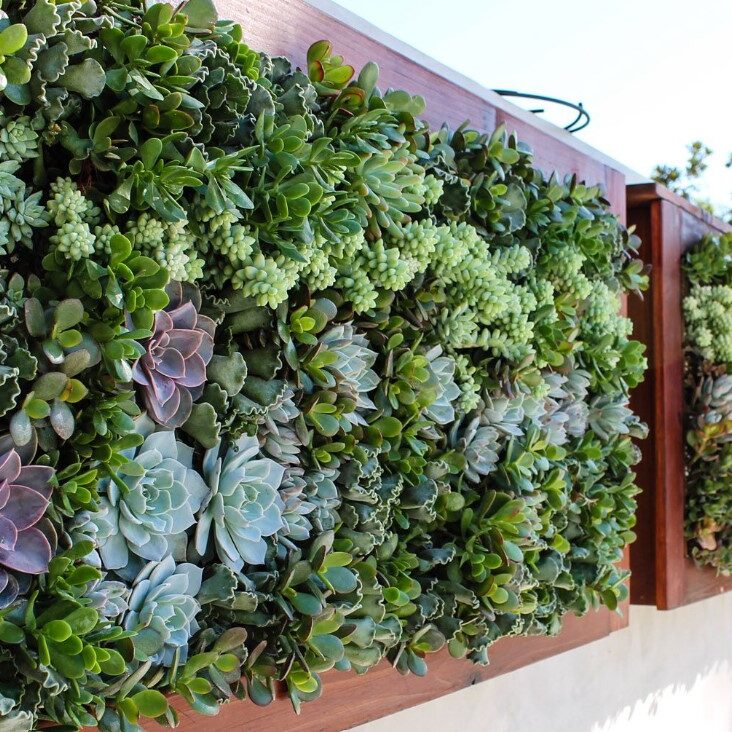 Why Consider A Living Wall?
Both remarkable in terms of aesthetics and beneficial to health, living walls create a stunning statement that invites the natural world inside. One of the lesser-known benefits of living green walls is that they help reduce noise within office/building spaces and can even help offset the heat, where higher temperatures are experienced especially in urban areas.
We take pride in our work and carry only the most innovative and cutting-edge solutions necessary for the installation of our wall planters. Our living walls planters are UV-resistant containers, and their insert makes pre-growing and planting very simple and can be used in both interior and exterior applications.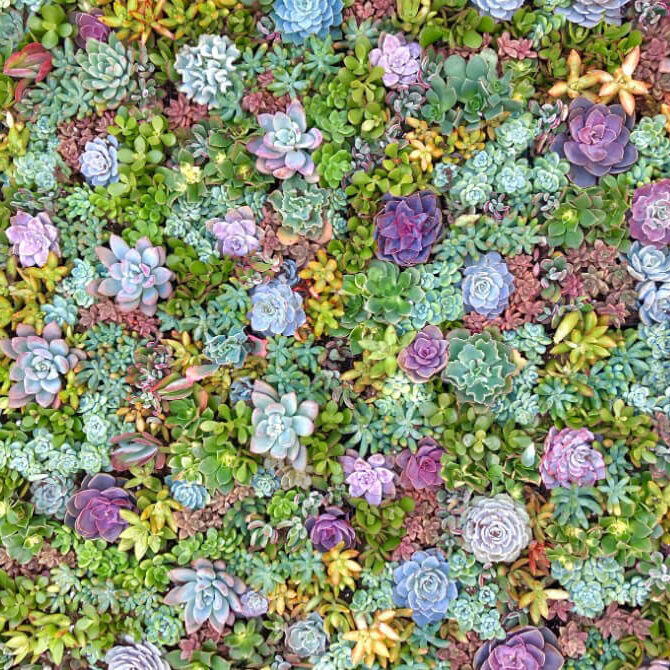 Perfect for sunny outdoor spaces, our vibrant and colorful succulent living walls are the perfect vertical garden solution for a front or backyard exposed to medium to full sun. Made with our own in-house fabricated, customizable VGS Living Wall System so the succulents are firmly rooted into our nutrient-rich, organic planting medium.
Our succulent walls can enhance any backyard, patio, front yard, entryway, or cover up a plain fence line or wall. They can enhance any outdoor living space and can be customizable to any shape and size. We offer enclosed irrigation system options for both manual and automatic irrigation system applications.
Succulent walls make a great addition to signage or a backdrop to commercial spaces as well. Our VGS Living Wall System can have additional signage attached to the front with company logos, signs, or any type of graphic or text. Succulent living walls for commercial spaces create a lush, welcoming atmosphere for a business as well as attract people to take pictures in front of a business to help with marketing and brand awareness.
Our tropical walls are perfect for any indoor, shaded-partially shaded/outdoor space. We use a variety of low-light tropical plants that are great for air quality and are low maintenance. Our tropical living walls are the perfect addition to any indoor living space or shaded, backyard, patio, or balcony.
We create a variety of vertical gardens with tropical plants in various designs and styles depending on the needs of our clients. Our tropical living walls typically utilize the Cortica Garden C32 sustainable living wall system made of modular panels created with natural cork which provides benefits like absorbing CO2's, as well as sound & temperature insulation.
Our tropical living walls with the Cortica Garden's cork living wall system provides maximum plant benefits, purifying air making it great for work or commercial spaces as well. Having plants in a workspace has been shown to increase productivity for employees and help with stress response. Many corporate companies and businesses have implemented indoor living walls into their offices or retail spaces for this purpose.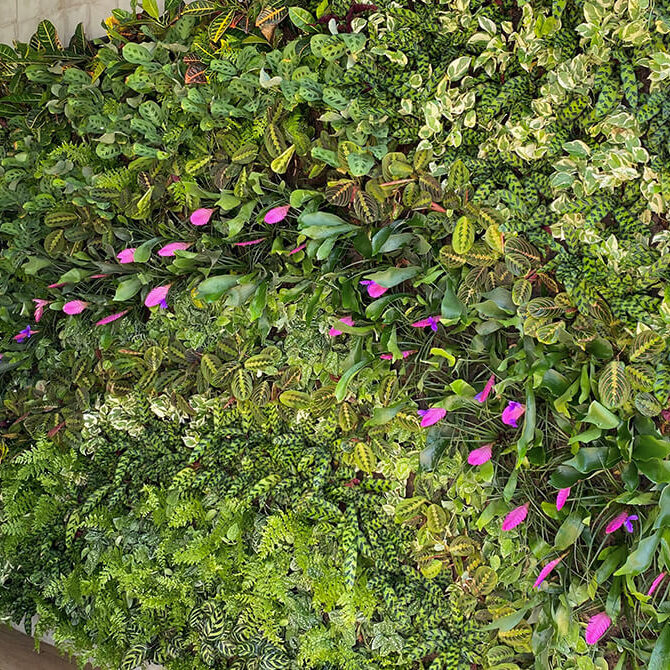 Living Wall Maintenance
It's important to know what maintenance will be required to keep your living wall healthy and beautiful before you decide on which living wall works best for your space. Visit our living wall maintenance page to learn more about the maintenance of living walls.