Preserved Moss Walls For Any Environment
Moss walls are a type of vertical garden that is low upkeep and highly customizable, giving designers the ability to add artistic shapes and details. These walls are composed of a variety of preserved mosses that are artistically arranged and require little to no maintenance.
Moss walls can also help to reduce the urban heat island effect. In cities, the built environment and pavement can absorb and retain heat, leading to higher temperatures and increased energy use for cooling. Moss walls and living walls, on the other hand, can provide shading and insulation, helping to keep buildings and outdoor spaces cooler.
In addition to their environmental benefits, moss walls can also provide aesthetic value to urban spaces. They can add color, texture, and interest to otherwise dull or barren walls, creating a more pleasant and inviting environment.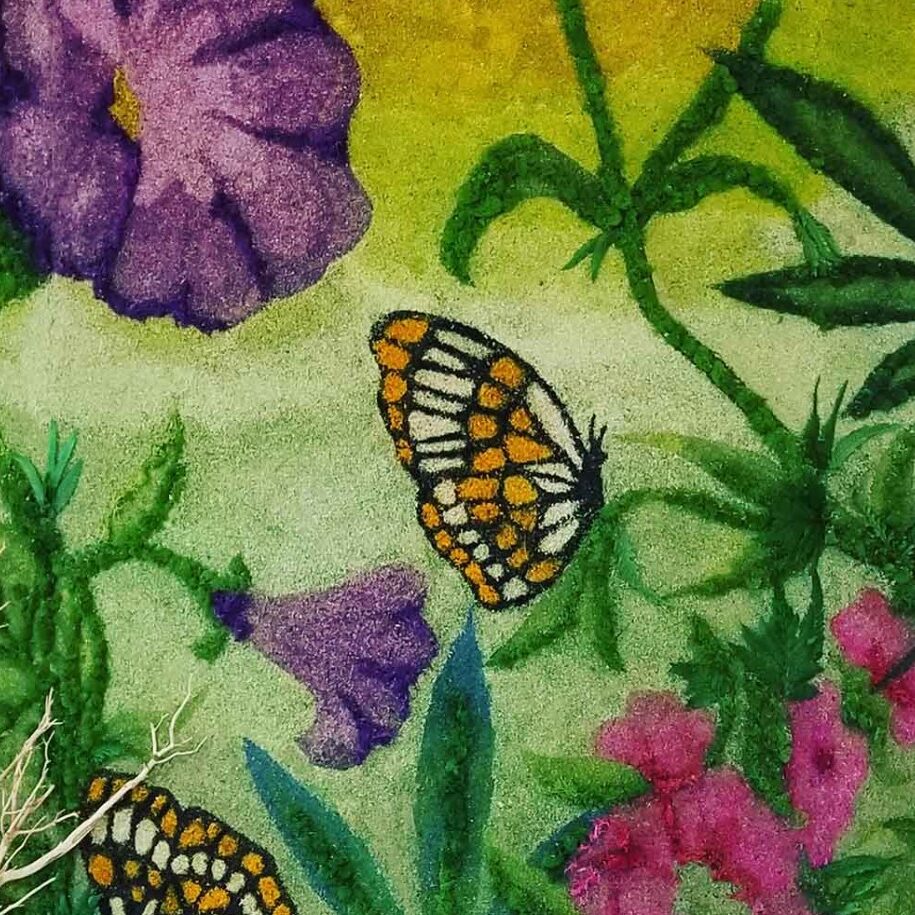 Why Consider A Moss Wall For Your Space?
Another benefit of moss walls is their low maintenance requirements. Unlike traditional gardens, which require frequent watering and pruning, moss walls are relatively self-sustaining. They are able to retain moisture and nutrients, allowing them to thrive with minimal intervention.
Overall, moss walls are an innovative and sustainable solution for improving the urban environment. They can provide a range of benefits, from improved air quality and reduced energy use, to enhanced aesthetic value and low maintenance requirements.
What's Preserved Moss?
Preserved moss is a moss that has been preserved with glycerin to retain it's both its color and texture. Our preserved moss has been grown, harvested, and preserved using a 100% plant-based, biodegradable preservation formula that results in a soft, realistic feel.
In addition, the great thing about preserved moss is that, since it's no longer alive, it requires virtually no maintenance and will retain its beauty and vibrancy for years to come.
It's these qualities that make preserved moss an ideal medium for our green walls — and for creating stunning works of art. The different colors and textures allow us to create striking, multi-dimensional pieces, transforming the space with natural beauty.
Moss walls can be used in a variety of settings, such as offices, homes, and public spaces. The moss can also be shaped and arranged in a variety of patterns and designs, making it a versatile and customizable option for home decor.
Overall, a preserved moss wall is a unique and beautiful way to bring a touch of nature into any space. It requires little maintenance and offers a range of benefits, making it a popular choice for those looking to add a natural element to their home or office.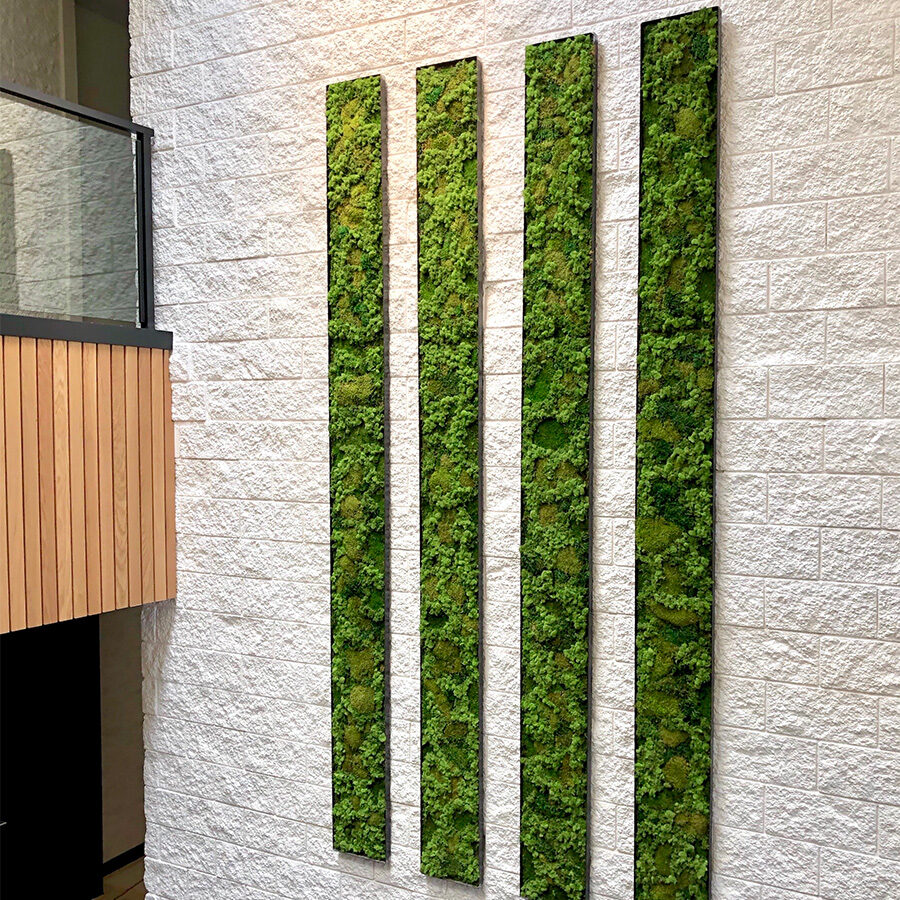 Simple, serene, and green. We use a variety of preserved moss textures and various green earth tones to create a lush, organic atmosphere that's customizable to your environment.
Tropical Plant Living Wall With Moss
These vertical gardens are made with different varieties of living tropical plants and preserved moss. Tropical plant living walls with moss combine both of our green wall offerings together to make a stunning wall that has the best of both worlds.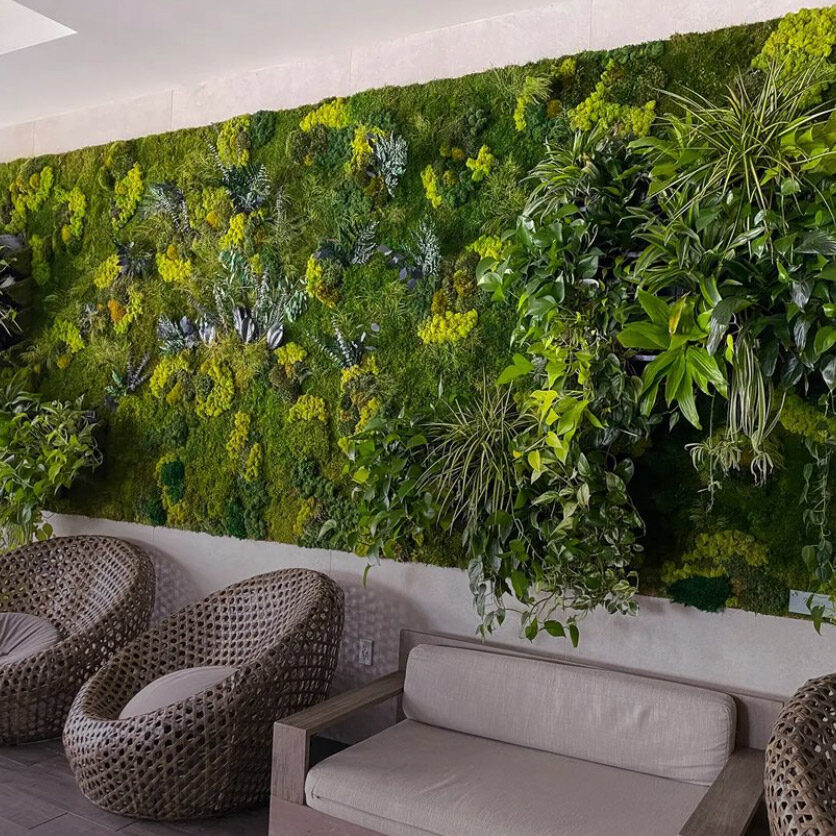 Moss Art With Foliage and Wood Elements
Our moss art with foliage and wood elements consists of a variety of naturally preserved moss and foliage including ferns, assorted leaves, flowers, driftwood, manzanita branch, and bark to create a more dynamic presentation.
Custom Fine Art Moss Walls
Our custom fine art moss walls are a detailed application of preserved moss colors and textures to design specific design shapes, patterns, motifs, or company logos. A combination of styles can be incorporated and executed within the design customization.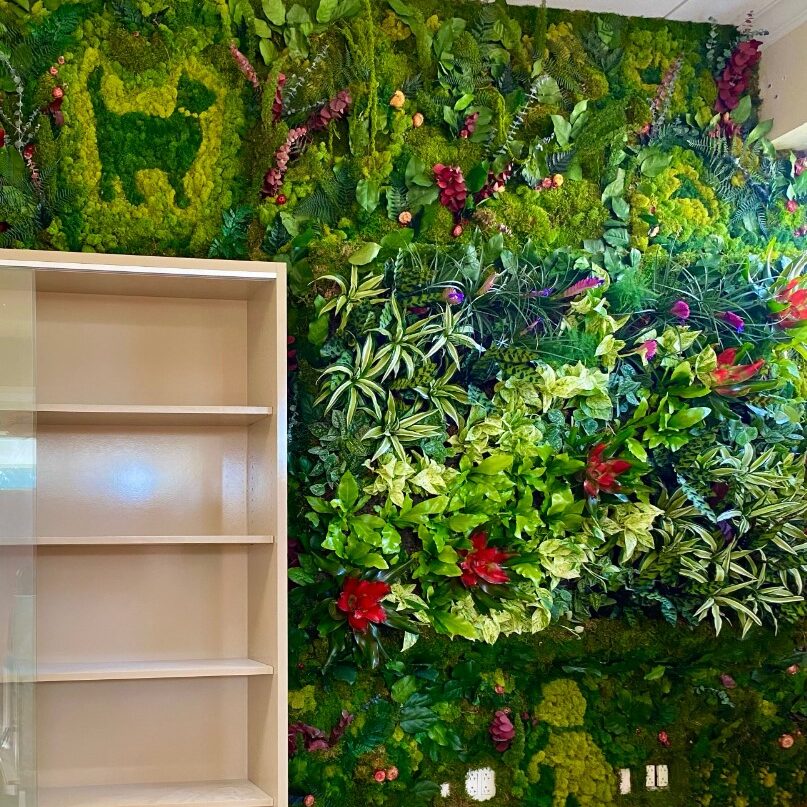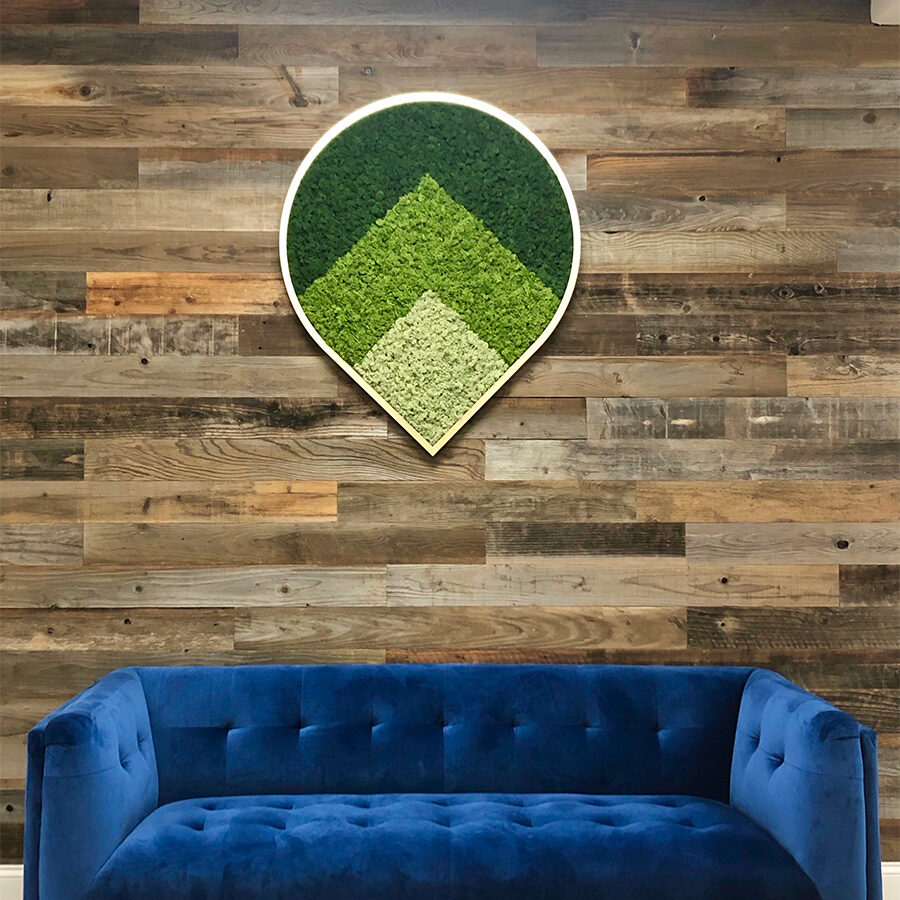 Abstract Modern Moss Art Walls
A combination of preserved moss textures and tones is applied in a contemporary stylized composition for a modern style yet natural feel.
Interested in installing a moss wall in your residence or business?
Contact us today to start the process!